Few things make me dizzy with delight. Okay, more than a few, especially my plant babies. At this time of the year in North America we're warm – make that, hot, which has its own dizzy-making properties. I prepare for the summer dormancy in the garden and a sort of quietness floats through the air. We, plant and me, are doing our best to rest and hydrate during the heat waves. Except for Ms. Alrighty-You-Be-So-Mighty Crape Myrtle.
She arrives on the scene late (into the season) – like any diva might. And she comes out swinging in all her tissue-crepe paper-blossom glory. All about #BeARedBird, she is. I rest assure there is brilliant bloom to delight my eyes (with blossom flavors in a variety of colors, so pick your crape dress). Best yet, she's no wuss with the heat, no sir. Give me more, she says.
My senses sip on this #restorativegarden beauty on this fine #FridayPlantHappyHour. So aware of her ease. The call-of-the-wild goes out to the birds and bees. We all want to be draped in the crape, finding respite in her candelabra-like presence.
[bctt tweet="Draping your landscape with #BeautyandBenefitPlants is a styling must for your soul. Your senses will thank you. "]
And fear not, come fall, she'll go out with a bang. Fiery, fierce and simply elegant fall #PlantFashion reminding that it is in our nature to thrive, no matter the temps of our days.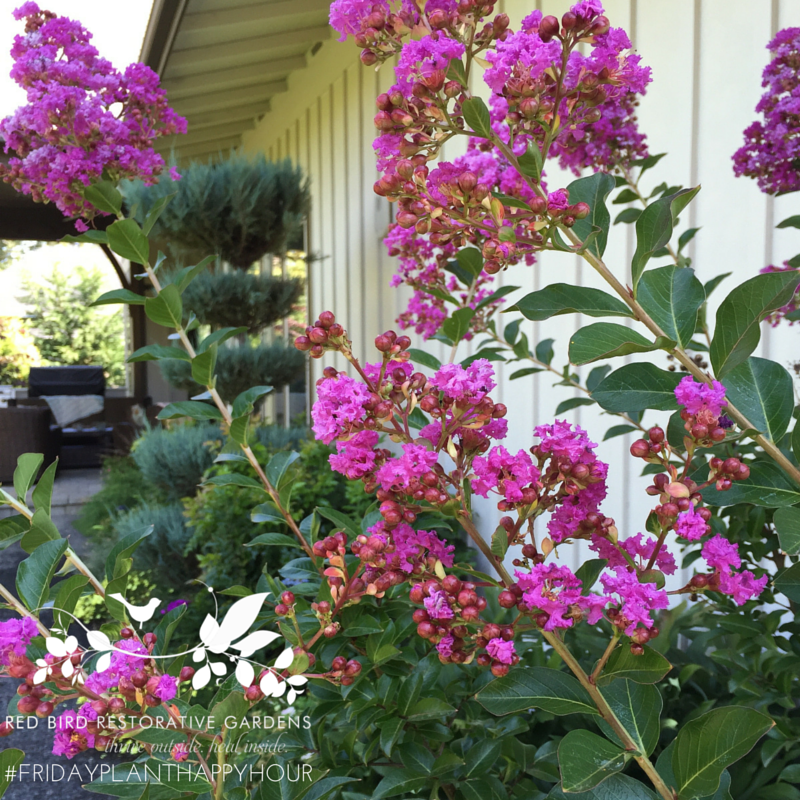 Get help selecting plants that make you dizzy with delight. Drop a question in the comments below or be in touch for Planting Design services sure to help you #GetYourBloomOn!
Want first-up, first-in bits of feel-good design and your very own FREE Design Tips for creating your Happy Place? Yes you do! Sign up for my newsletter now.