Shop
Specialty Garden Show Items — Saw it? Want it? You've got it!

Find a gallery of our garden display items for sale at our SHOW STORE over >>here<<. All items handcrafted and sourced locally, within a 10 mile radius of our design studio.
Gift Certificates — Give a Feel Good Gift!
We're so glad you want to make someone feel good, and we're happy to oblige!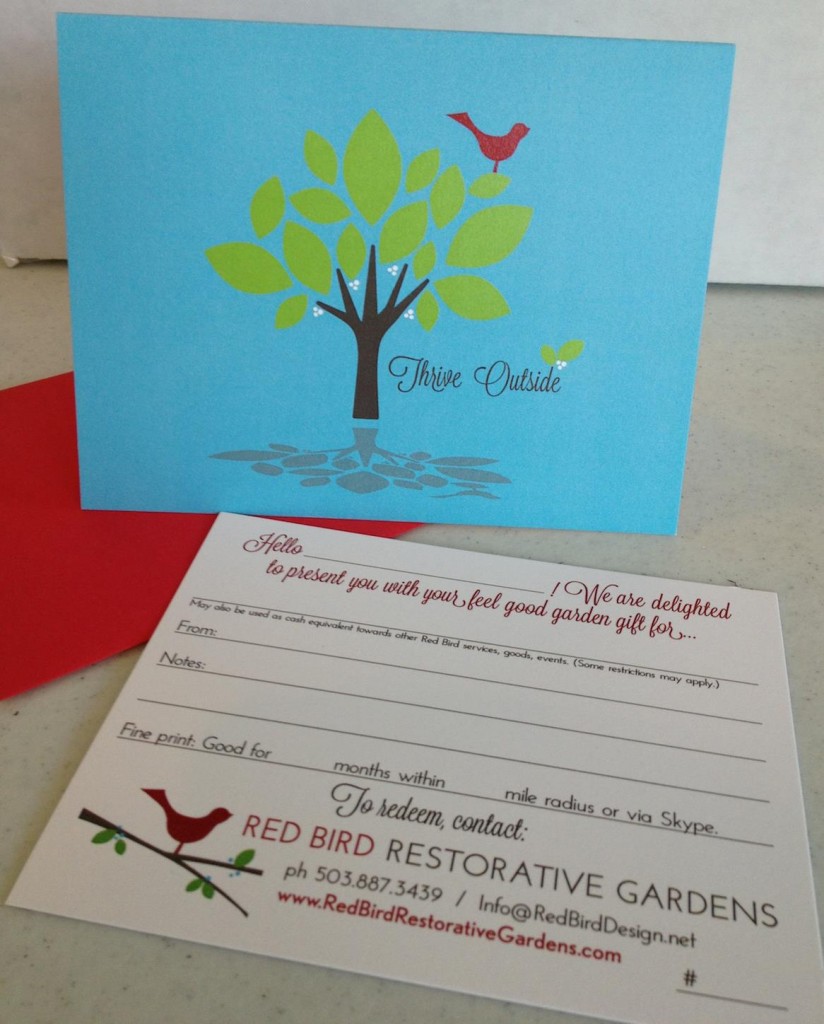 Red Bird Feel-Good Garden Gift Certificates may be used towards our services, goods & special events.
Someone need help in & with the garden? > Try a gift of Garden Tending & Care Services.
Put a little design pep in someone's step? > Design Consultation Gift will do!
1-on-1 time to get a handle on things? > Garden Coaching Gift is a perfect tonic to cure what bugs & bothers.
New home? > Try a Gardenwarming Gift for those first time homebuyers.
Contact Annie — she'll brainstorm the perfect personalized package & take care of all the arrangements — complete with a lovely bow on top.
Apparel — Sweetly Designed with You in Mind
Join us and wear your garden heart (& Red Bird!) on your sleeve!
Hey! What's available?
Tee Shirts (See example below for Thriving Tree. All-Season Red Bird and Branded-On-Back-Only option available in online store.)
Aprons (for that "Zen of Weeding" time.)
Caps (just.in.case.of."garden hair".)
Tote bags (for those great plant sales… oh, and groceries too.)

Examples of our Thriving Tree for All T-Shirt available in our RedBirdGardens Zazzle store.
Visit our online store at Zazzle to find what your garden heart desires or a perfect gift for someone special!
Don't see what you need? Contact us with your wish list & we'll take good care of you & your order.
"Hey Red Bird, keep me posted on new feel-good goodies."
You bet! We're out & about scouting. Join our Tickle Your Garden Heart Newsletter mailing list to get on the notification list & stay tuned!